The demonstration site in Poland
The demonstration site in Poland
A few words about the Niepolomice Forest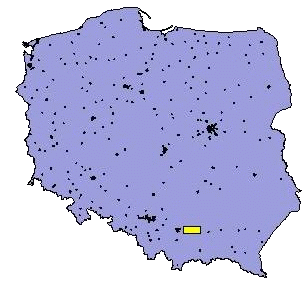 Test site is located in the Niepolomice Forest, near Cracow. Those complex forest areas on total 10 400 ha (103,4 km2) are located on Vistulariver valley just 25 km to the East from the center of Cracow. The forest areas are composed on two main forest parts, so called "southern" (about 8 500 ha mainly composed on the basis of mixed forest, Pino-Quercetum) and so called "northern" (1 850 ha deciduous forest, Tilio-Carpinetum).
More than 40 years ago, a steel factory was located in Cracow (Nowa Huta), which had and still has the most negative effects on forest stands health due to dust and gas emissions. Those areas were also drainage areas, which effect negative on hydrology and flora.
The Niepolomice Forest originally constituted a part of the forest reaching from Carpathians down to the Little Poland Upland. The present-day forest stands of the Niepolomice Forest developed as a result of long continued and unfortunately often improper treatment (clear cuttings, the drainage of sites and grazing). This site is the most interesting one, because it is the good example of mistakes, which were provided in European forestry.
Forest communities in the Niepolomice Forest are represented by: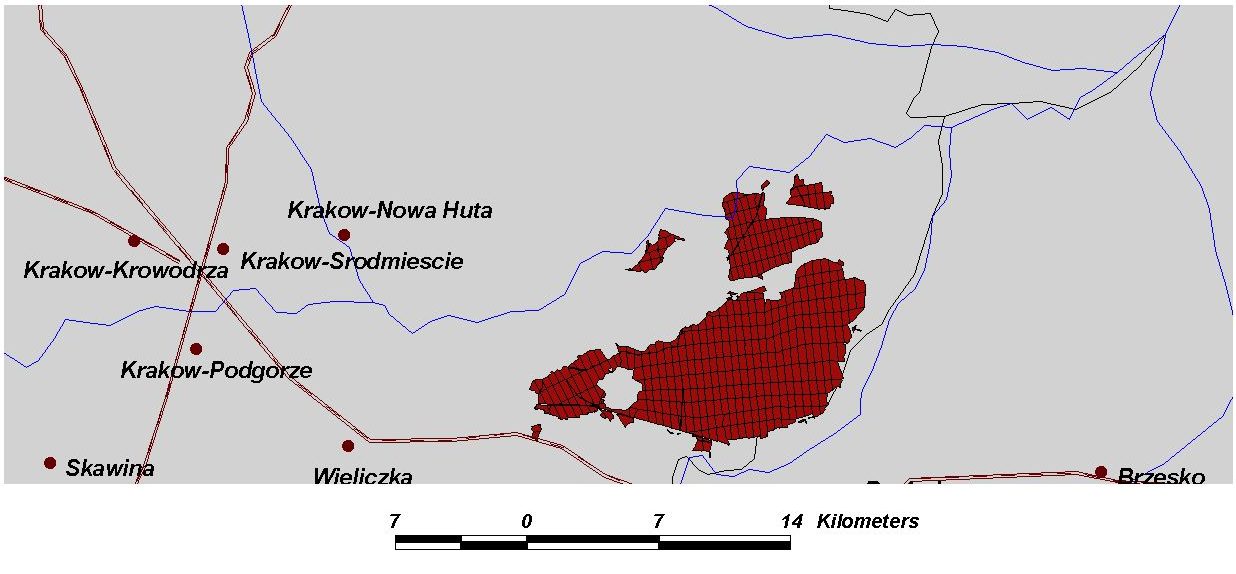 swamp pine forest (Vaccinio uliginosi-Pinetum) - 0.7%;
alder carr (Carici elongate-Alnetum) - 0.4%;
transitional deciduous wood (Carici elongate-Alnetum/Tilio crpinetum stachyetosum) - 4.3%;
transitional mixed carr (Carici elongate-Alnetum/Pino Quercetum) - 3.9%;
riparian alder wood (Circaeo-Alnetum) - 1.4%;
hornbeam-oak wood (Tilio-Carpinetum) - 12.9%;
transitional mixed wood (Tilio -Carpinetum/ Pino-Quercetum) - 24.6%;
oak-pine mixed forest (Pino-Quercetum) - 52% dry, fresh and humid variant.
Stands with dominating pine (Pinus silvestris) cover nearly 65% of the Niepolomice Forest.
Stands with dominating oaks (Quercus robur) cover 17% chiefly in the northern ranges.
Stands with dominating alder (Alnus glutinosa) cover nearly 9%
Stands with more diversified structure are found in the northern ranges and in the nature preserves. Thanks to the varied mosaic of forest stands and vegetation type, Niepolomice Forest can be taken as typical example of low-land central European (and a especially polish) woodland.
On the Niepolomice Forest many different research works were (since 1965) and still are provided, due to the negative effect of human activity on natural environment. It means that there are plenty of scientific reports and also new digital maps and description database as well.
This site can by enlarged to the East (Wolski Forest - deciduous woodland 500 ha and Krzeszowice Forest District 1500 ha mixed forest stands (pine/beech/oak/birch)) just the opposite site of Cracow city. The second demonstration site, as a reserve, is located near to Katowice/Tychy (Silesia Industrial Region) in so called Pszczyna and Kobior Forest. This area is composed with 2000 ha, but mostly with pine in first floor and deciduous trees like oak, beech and birch in second floor. The forest stands are also under significant influence of industrial emission.