Structure
Structure
Structure
The project is divided into activity units - so called work packages. Each work package is divided future into tasks. The EuroClim project is divided into seven different work packages.
Project structure simplified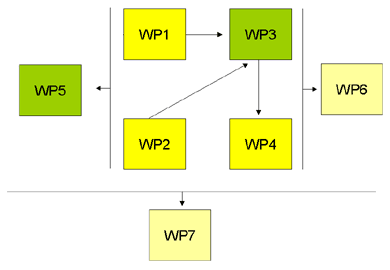 Work packages
The EuroClim project started with a kick-off September 2001 is scheduled for completion in August 2004
| | | | | |
| --- | --- | --- | --- | --- |
| Work package | Title | Contractor | Start month | End month |
| WP1 | System specification | LU-HRI | 1 | 21 |
| WP2 | Model and algorithms | UCAM-SPRI | 4 | 24 |
| WP3 | System development | KSPT | 7 | 24 |
| WP4 | System validation | NPI | 1 | 34 |
| WP5 | Assesssment and evaluation | LU-HRI | 4 | 36 |
| WP6 | Dissemination and exploitation | NR | 1 | 36 |
| WP7 | Project managment | NR | 1 | 36 |
WP1: System specification
User requirement specification: The user needs and requirements for the system will be determined from the knowledge of the project's user partners (representing specific countries) and by direct interaction with users in other selected European countries. The results of the study should be representative of the needs of Europe as a whole. Needs at the international level will be investigated by interaction with international organisations and authorities.
WP2: Models and algorithms
The initial work includes preparation of the state-of-the-art models and algorithms to the system. These models and algorithms will be applied under the system development in order not to need to wait for the completion of this work package before the system development can start. The new and improved algorithms will be delivered later and will substitute the initial algorithms. The initial algorithms will also function as fallback solutions.
WP3: System development
The work is divided into tasks and actions related to the overall system architecture foreseen. This could be modified, depending on the results from the system design work. The system development is performed in an incremental manner. A first, minimal version of the system is based on the initial system design developed in WP 1 (iteration 1). Then, the system is evaluated by the user panel resulting in a new version of the system requirement report and a new revision of the system design (WP 1). Thereafter, the system development process continues with the development of an improved version of the system (iteration 2), and so on.
WP4: System validation
The validation will take place using Scandinavia, Greenland and the Svalbard land and ocean region as test region.
WP5: Evaluation
Develop a plan to evaluate the system against user needs and system requirements and to survey the likely environmental and social impact of the system
WP6: Dissemination and exploitation
In addition to the activities described below, the project will also publish results frequently in conferences, scientific journals, newspapers, etc. This work is covered as a natural part of scientific research and technical development within the relevant tasks in the project (in particular relevant to WP 2 and WP 3).
WP7: Project managment
The Administrative management: Will follow a specified project management model. This includes the quality plan, which is a document with concise guidelines and procedures on how to carry out the project work. The technical management: Will follow a specified project management model. This includes quality control of all deliverables. Initially, a system development plan is created building of state-of-the-art methodology for software engineering of complex, distributed systems. Tools for large-scale system development will be applied, including a version control system for software and documents